The Atkins Diet is only a quick fix
by Tara Gillihan
(Olathe, KS, United States)
Last summer I was desperate to shed some pounds. I discovered a late fad called the Atkins Diet. It seemed to be a great idea.

Like any other 23 year old woman, I wanted a diet that I could eat the foods I liked, be reasonable about the workouts and not have to take out another mortgage at the gym.

Immediately I began restricting my carbohydrates, loving the diet, and loving my waistline.

I lost weight right away. If I remember correctly I lost 5 pounds in only the first week. From then on out the weight kept coming off.

I was enjoying 4 snacks a day consisting of cheese, beef jerky and everything else that was always a terrible idea when dieting before.

When I left for vacation I left my diet back at home, and when I returned I realized I was putting weight back on just as quickly as I lost it.

Not to mention I felt fatigued and my cholesterol was through the roof.

Unfortunately, I came to find out that the Atkins Diet was only a quick fix and unless I was willing to have dangerously high cholesterol and never eat a bite of fruit again, I would not be able to continue this lifestyle change.

For quick weight loss, I would recommend this diet but expect all that weight to catch back up with you faster than you lost it.

I was very disappointed but who would expect to find a successful diet that includes eating bacon and steak any time you want? Atkins was definitely too good to be true!

Tara


Get your FREE copy today, just click on the image of the book... It's FREE. Not a dime. Zilch. Nada.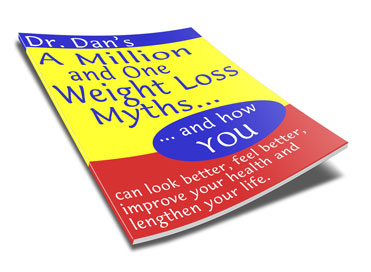 Note from Dr. Dan
Tara,
You bring up a lot of good points.
Research on various diets has shown that Atkins is somewhat more difficult than most diets to stay with.
Also, many people tell me that they regain weight very quickly after doing the Atkins diet.
While it is common to regain weight after stopping a diet, I get the impression that the weight gain after Atkins is more than with other diets.
The cholesterol issue is an open question. Some people say they lower their cholesterol with Atkins. But many others have dramatically increased cholesterol on Atkins.
Dr. Dan