Ideal Waist Size -- Tale Of The Tape
What is the ideal waist size?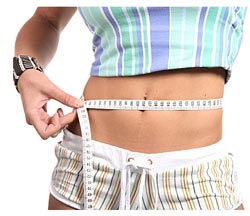 The simple version is that it is the size where you look good. Where you feel good. Where you are healthy.
If your waist size is too big you can develop health problems.
This has been studied with many thousands of patients. The ones with larger waists got diabetes and heart disease.
It's hormonally related. And so women, who tend to have smaller waists than men, have less heart disease.
So what are the numbers?
| | Increased Health Risk | Substantial Health Risk |
| --- | --- | --- |
| Men | >94 cm (37") | >102 cm (40") |
| Women | >80 cm (32") | >88 cm (35") |
So, men definitely want to be below 40" (102 cm), and below 37" (94 cm) is best. Women, you want to be under 35" (88 cm) and better yet under 32" (80 cm). That will keep you healthy.
How do you measure?
You stand relaxed. Don't try to hold your stomach in.
Put the tape around you level with the ground. It should go around at the level of your belly button.
Now, if your belly button is sagging halfway to your knees that won't work. In that case you bend your arm and put it at your side. It is where your elbow touches your side. This is the top of the hip bone, and that is your waist.
Make the tape firm around you. You don't have to get it too tight.
Don't want to take measurements?
Then here's the easy version for finding your ideal waist size.
Keep an eye on how your pants feel. Are they getting too tight? Then something is not working.
Do they feel good? OK. Things can't be too bad.
Are they falling off? Congratulations! Get some new pants. You are on your way to your ideal waist size.