Decrease Calorie Density And Increase Nutritional Density To Stop Cravings And Lose Weight
So what in the world is calorie density, and why should you care?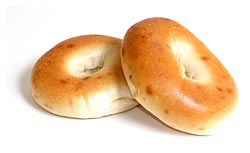 There is a more complete version. But here is the simple version:
Calorie density is the difference between vegetable soup and a bagel.
Bagels are fat pills. One a day is enough to make you fat and keep you fat. Don't think so? A typical bagel has 360 calories and 70 grams of carbohydrate and little else. A small amount of protein, very little fiber, and that's all.
Now then, what are you going to put on it? Cream cheese? Jelly? Your calorie count is going into the stratosphere with just one bagel.
Soup is the real diet food
So what about soup? Well, whatever else is in it, it's made with water.
You get more to eat.
It takes longer.
It's more filling.
It's better for you.
An 8 ounce (240 ml) cup of turkey vegetable or chicken vegetable soup has about 160 calories.
Heck, you can have 2 cups.
See -- the calorie density is much lower in the soup. And the nutritional density is much higher.
The bagel is pure calories -- solid, thick, nasty calories. It's just fat waiting to happen.
But the soup -- ahh!! Soup is good, warm, tasty, inviting! Soup is good and good for you.
So eat your soup. And you can just sit back and watch the fat melt away.