Great results from Atkins Diet
Having recently come back from holiday and having put on 15lbs...Atkins Diet is the diet for me.

I have only ever done the induction phase as I have been happy with this phase and it has been the most beneficial. You get to eat as much cheese, meat and prawns as you like - all which I love!

The only downfall of this diet is finding lunches that are acceptable in mainstream. For example, sitting eating a packet of ham for your lunch can appear pretty strange to people who are unaware you are on Atkins!

I love the fact you can eat as many prawns...including prawn cocktails...as you like! Steaks all around come dining events with family. And baked Brie or Camembert for that special occasion!

I know there is no easy diet, but Atkins for me is. Atkins bars are great for when you have a sweet craving and you can have as many tuna salads as you like. Vodka is also carb free! So far, day 3 of Atkins and I have lost 6lbs...not too bad eh??

I will always come back to Atkins for a quick diet and weight loss. Just be careful when you are coming off this diet as you can get carried away eating fries and bread!


Get your FREE copy today of A Million and One Weight Loss Myths.

Just click on the image of the book...

It's FREE. Not a dime. Zilch. Nada.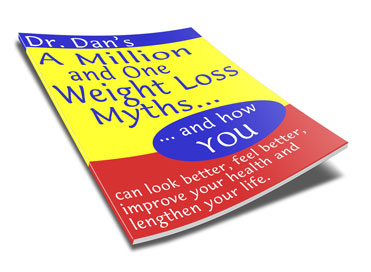 Note from Dr. Dan
You're right, vodka doesn't have any carbs. But at 7 calories per gram, alcohol has more calories than fat or protein, and it is a real killer to your metabolism.
If you are trying to lose weight it's best to steer clear of alcohol.
Dr. Dan