Atkins Worked For Me But Not For My Husband
by Donna
(San Jose)
I am a healthy girl and I've done sports all my life. The only diet that I remember doing as a teenager was after I stopped training and gained a little weight. A week of crisps with yogurt made me lose 2.5kg.

Years after I married, my husband was determined to lose weight even though his extra kilos did not bother me.

He began a strict diet: Atkins. We continued together for five months on Atkins. I lost a lot of weight and he got fatter.

The Atkins diet helped me lose fat and excess fluid and keeps my muscles toned. I did not appear overweight before the diet, but I was better after the diet because my body shrank in volume and my muscles were firmer.

Meanwhile, my husband increased his body volume giving him an appearance of being fatter and bigger.

I thought this was because I do not like meat and since I don't like it, it doesn't make me fat. He likes meat too much.

On the other hand I thought maybe he gained weight because of his wine consumption.
When I took a glass of wine with dinner he drank a few more glasses.

Since then he has tried many things to lose weight but I do not follow him to any of his diets.

I can not say that one diet is better than other but I can say that a diet is good when it fits you. Atkins worked well for me, but not my husband.

Donna


Get your FREE copy today of A Million and One Weight Loss Myths.

Just click on the image of the book...

It's FREE. Not a dime. Zilch. Nada.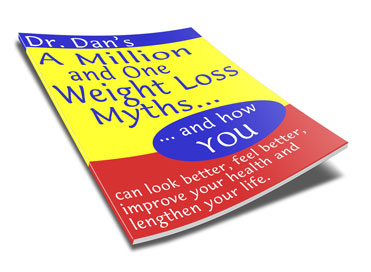 Note from Dr. Dan
Donna,
It sounds like the problem is the alcohol. It's very hard to lose weight when the person takes in a lot of empty calories. And alcohol is empty calories.
In addition, alcohol diverts the resources of the body to the metabolism of the alcohol and away from burning fat.
Dr. Dan