Tribal Fusion Bellydance
by Samantha
(Baton Rouge, Louisiana)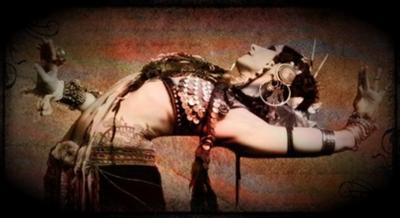 Rachel Brice dancing
I was never a big exerciser. I hated PE... I couldn't stand counting calories... I loved running but didn't have the lung strength for it.

Though I've been skinny all my life, I've never been FIT. Then I discovered bellydance, specifically tribal fusion-style bellydance.

It's AMAZING. It's the most intense workout I've ever done, it makes me feel beautiful, and I can feel the workout for days afterward.

I have a DVD by Sharon Kihara, and one by Rachel Brice - two Tribal Bellydance Superstars - because there are no classes available in my city for this kind of dance.

It's about an hour of working out and then some choreographed dances at the end.

After about 6 months I still won't do the final dances because I wanna perfect my muscles before I try putting it all together... but I've never been so toned.

It begins with yoga stretches and then goes on to move-specific toning... like flexing the glutes and the back muscles.

It's definitely an intense work out, full of crunches (my weakness - I still can't do them all yet), lunges, shoulderblade stretches, and stretching the legs. Definitely my favorite.

I can even feel it at work! I can lift things so much easier, I get fatigued less easily.

It's done so much for my life, and I look awesome doing it. Ren-fair here I come!


Get your FREE copy today of A Million and One Weight Loss Myths.

Just click on the image of the book...

It's FREE. Not a dime. Zilch. Nada.