P90X Workout Is No Laughing Matter
by Chelsea Burgess
(Oregon)
I literally drooled awaiting the UPS driver with my new P90X workout and nutrition guide. When it finally crossed my threshold, I ripped the box open, completed the fit test and dove in.

This series of workouts is NO laughing matter.

I chose the Lean program out of the three options which gave me more cardio than anything else, and being a mom of three, and having had a C-Section to boot, I needed it.

Each workout is at least 50 minutes, and can go up to an hour and a half.

I. was. dripping. sweat. the. WHOLE. time.

It is TOUGH... but Tony Horton kept me motivated and wanting to finish.

This is a 90 day program, and I'm currently on day 72. I've lost 15 pounds while following the nutrition guide to the best of my ability, (I'm a serious baker).

Each of the videos from cardio to Kenpo Karate, to strength in Legs and Back, Back, Shoulders, Chest, Arms... each one of them comes with their own challenges - things I never once thought I would be doing. And I'm DOING IT!

Pushups while clapping in between? Done it! Pull Ups? Done it! Yoga for an hour an a half where I'm dripping sweat all over my exercise mat and begging for forgiveness? Been there and completed it.

This is a Whoop in the Pants but magically keeps you going workout. A+

Chelsea Burgess


Get your FREE copy today of A Million and One Weight Loss Myths.

Just click on the image of the book...

It's FREE. Not a dime. Zilch. Nada.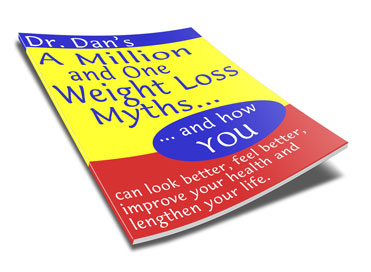 Note from Dr. Dan
Chelsea,
Thanks for your story about P90X.
P90X is an excellent, well-thought-out program. But it's not for beginners. You need to be in some kind of shape to start.
But if you can do it, it will take you to the next level.
Dr. Dan