The Heart Attack Grill
by Jeff M
(Philadelphia)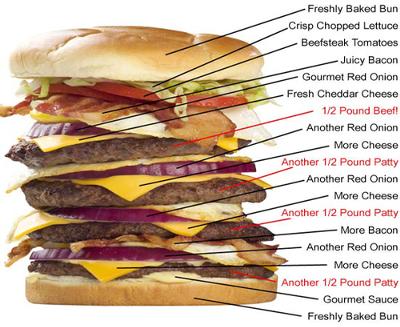 I've never actually have been here but the name says it all. They offer huge portions of burgers that have thousands of calories.

The burgers themselves are named different levels of bypass.

The owner even walks around in a doctors costume.

Just watch this video and I'm sure you will agree with me that this is the worst restaurant in the world to visit when trying to loose weight.


Return to What's The World's Worst Restaurant?.
Heart Attack Grill -- Chandler Arizona
by Jon Allen
(Moreno Valley, CA)
There's a restaurant in Chandler Arizona called the Heart Attack Grill.

I visited about 4 months ago on a road trip with some friends from school.

Their burgers are insanely greasy. Even the buns are greasy.

I had a single cheeseburger, fries and coke, which is bad enough, but from this particular restaurant it's incredibly unhealthy.

The beef pattys are all 1/2 pound; the double cheeseburger is called a double bypass, and yes they also have a triple bypass and quadruple bypass.

The fries are the most deliciously unhealthy fries I've ever had, because they're fried in pure lard.

The restaurant also has cigarettes and liquor, and sexy nurse waitresses with stethoscopes to come and "check" up on you (I'm not making this up). So that's my vote for worst restaurant in the world.
Return to What's The World's Worst Restaurant?.