Couch To 5K...Wow! I'm a Runner!
by Katie
(Bowling Green, Ohio)
I never thought I could be a runner, but I found a FANTASTIC running program that trains anyone to be able to run a 5K.

It is a 9 week program starting out with walk/jog alternations. By week 7 you are running/jogging a full 28 minutes.

What's nice about this is that you don't need to buy any new equipment as you can run anywhere! I, however, did purchase a few things.

I bought a summer pass to the local recreation center so that I could run on the treadmill when it was really hot outside. I also bought new running shoes, as my previous shoes weren't fit specifically for running.

The last thing I bought was a simple stopwatch for when I ran outside.

I'm currently still in week 7 of the program. I ran 28 minutes once on a treadmill with a TV right in front of it (keeping my thoughts busy), and it felt SO amazing to finish. I'm 22 years old, but I'm severely obese, so I never thought this would be possible!

Since then, I've run two more times -- 16 minutes one time, and 19 minutes the other. While this isn't on track with the program, I'm still making attempts to run, and I won't be giving up.

The hardest part about the latter part of the program is keeping my mind busy for that long of a time when my body is telling me to think about how tired I am.

I'm looking into getting an IPod so that I have something to keep my thoughts busy. While it has been hard, this has definitely been a great boost to my self-esteem.

If you asked me even just 2 months ago if I could ever run just 16 minutes nonstop, I'd laugh in your face!

I had a friend who recommended this program to me, so she was about 4 weeks ahead of me when I started. It was nice to have someone to relate to and ask about how she felt when starting certain weeks. She just completed her first 5K this weekend!

I have definitely gotten stronger, and I aim to run my first 5K on September 4th, 2010. This will be a good 2 months after I finish the Couch To 5K program, but I'd like the extra time.

I would not hesitate a bit to recommend this program to anyone who is capable of walking. If you can walk, you can do it. I believe in you!

All of the information can be found at this following website: http://www.coolrunning.com/engine/2/2_3/181.shtml

Katie


Get your FREE copy today of A Million and One Weight Loss Myths.

Just click on the image of the book...

It's FREE. Not a dime. Zilch. Nada.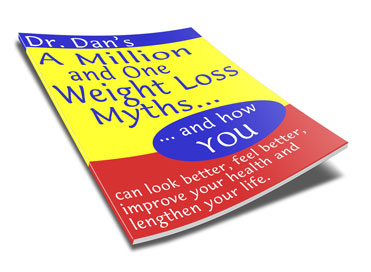 Note from Dr. Dan
Katie,
Very inspiring story.
Most people don't realize this, but you can be overweight and be in good shape. And you are showing this because you can run despite the extra pounds.
In fact, some of the latest research has shown that people who are overweight but have good cardiovascular conditioning are healthier and live longer than people who are thin and out of shape.
Dr. Dan