Circuit training keeps me motivated!
by Melva Pratts
(Largo, Fl.)
I finally decided to start exercising so I wanted to get one piece of equipment to assist in this attempt. I purchased a Total Gym, a trampoline, some cords and put together an exercise regime for myself to start the weight loss.

At first, I started out on my Total Gym once a day as a beginner, flat on the ground, no inclines, just pulling, pushing and gliding. I didn't really get any soreness, it was just a bit tiring at first.

After a couple of days, the routine was enjoyable. Even without body weight the workout was making me break a sweat.

I started with one set of fifteen reps of exercises.

I increased up to working out 6 days a week. Monday, Wednesdays and Fridays, I worked the chest-back-shoulders, Tuesdays, Thursdays and Saturdays I worked the biceps-triceps-legs.

I have Sundays off as a day to rest.

I can work my abs out on a daily basis because they need it the most.

Every day I incorporated the use of the trampoline and jump anywhere from 500 times to 2500 times doing circuit training routines. Also using cords for strength training and a set of 5-10 free weights.

I am more energetic and look forward to my exercises daily. I feel exercise has become almost an addictive habit now since I started and am always looking forward to making the time to do it.

I am 58 years old and diabetic so the need for exercise is essential.

I at first thought I would not want to do the exercises but have found it to be an outlet for stress relief as well. I exercise alone at home and just take my time and would encourage anyone to look into the use of the equipment I am using.

Melva


Get your FREE copy today of A Million and One Weight Loss Myths.

Just click on the image of the book...

It's FREE. Not a dime. Zilch. Nada.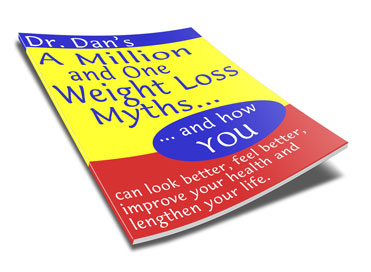 Note from Dr. Dan
Melva,
Your workout sounds great.
You are getting your resistance training to build muscle and your endurance training for cardio.
And you have a system that you can use in your own place on your own time.
It solves a lot of the reasons that people say they "can't exercise."
Dr. Dan