CAPOEIRAAAA!!! - Capoeira Is So Enjoyable!
by Leaves
(Ist, Turkey)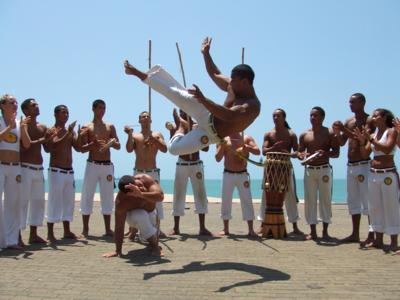 I want to share my weight loss experience, which was quite enjoyable at the same time. I always used to suffer because of heavy diets until I met this great sport.

As almost everyone knows capoeira is a martial art that belongs to Brazilian people. It has a really interesting story.

Once upon a time while black people were slaves in Brazil, they wanted to rebel but it was forbidden to touch any kind of guns. They had to find a method they could use with just their bodies. So they invented capoeira.

While they were training they had a wonderful disguise. Their masters thought that they were dancing.

Those slaves pretended like they were dancing but actually they were doing one of the toughest martial art: capoeira.

The best part of capoeira is you have to coordinate with your partner, like dancing. So your balance and communication is important. Otherwise you can kick your partner by mistake.

Also, in capoeira you never stop. Capoeira has a special step called ginga that you continue any time you are not doing another movement. So it is incredible how you expend energy during your training.

I go to capoeira 3 times in a week and each takes 2 hours. After warming up we start to practice kicks which are very similar to other martial arts. But the difference is you have to do everything in a harmony and in a rhythm because capoeira uses music and rhythm during training! So you never get bored!

You don't have to worry about your skills. You can start with baby steps.

I started capoeira when I was 25. If you are decisive enough, nothing can stop you!

Keep at it and you will be fit, and at the same time you will enjoy it a lot. Socializing is also great. After training we like going to dance. And when you start dancing with your capoeira friends, everyone in the place let you dance!

After a couple of months I lost weight and my body was so good looking. Moreover I did it all without suffering!